There's a lot going on over the next few weeks with party conferences, fringe events, local progressive alliance events and even a festival in Brighton with our local organisers. There are also some changes in the Compass office. We are very sad to be saying goodbye to Clare Coatman who has worked with us as Campaigns and Ideas Organiser for the past year, leading the brilliant Good Europe project alongside so many other things. We wish her all the best and a HUGE THANK YOU from everyone at Compass for the energy, wisdom and all the excellent work done at Compass.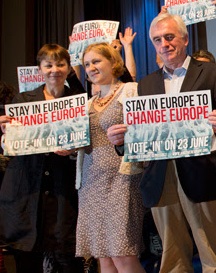 A message from Clare (standing with Caroline Lucas MP and Shadow Chancellor John McDonnell at Another Europe is Possible):
"I'm sad to be leaving the staff team at Compass, although I'm just heading down the road to join the TUC and so am sure I will continue to be involved in the work one way or another! During my time here I have so enjoyed chatting to, and working with, you – members, supporters and the wider network – and wish everyone the very best for the future."
We're excited to announce the launch of The Alternative – a book edited by Caroline Lucas MP, Lisa Nandy MP and Chris Bowers on the need for a progressive alliance and how we might start going about making it happen. It demonstrates the intellectual and political impetus behind the idea of a progressive alliance and covers all the key areas from sustainability, to democracy and the economy. The timing could not be better as the threat of a deepening Tory dominance and the crisis of Labour meets the appetite from the bottom up for new forms of plural, networked and cooperative politics.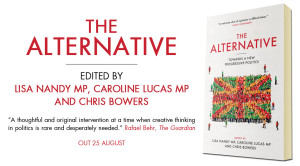 The Alternative is published by Biteback and we have secured a special discount for Compass members and supporters: 
20% off when you order one using the code ALT20.
 Make sure to grab a copy, it's a fantastic read with so much food for thought.
Compass will be hosting a fringe event to launch the book in Liverpool on Sunday 25 September 18.00-19.15 during the Labour Party conference with Caroline Lucas MP, Lisa Nandy MP and Chris Bowers – we hope to see many of you there! Full details here, the event is free and open to all.
More summer events:
Green Party conference, Birmingham: Progressive Alliances: The case for cross-­party working and why it could be a game ­changer for the Green Party, 2 September 2016, 18.30­ – 19.45.
Green Party Fringe, Birmingham: Universal Basic Income: Desirable and Feasible?​ 02 September 2016, 14.30, University of Birmingham, Great Hall.
Brighton & Hove: Compass Talk Tent at the Together the People Festival – two days of political playfulness with discussions, creativity, voting and all manner of thought provoking discussion and activities.
Wealden: The potential for progressive cooperation? With Caroline Lucas MP, Chris Bowers and Neal Lawson, 16 September, 19.30.
Lib Dem Fringe, Buckingham: Hanging together or hanging separately: Can the Left work together? With Caroline Lucas MP, Chris Bowers and Lisa Nandy MP, 18 September 2016, 13.00-14.00.
Birmingham: Building a progressive future workshop, 22 September 2016, 19.00-21.00.
The World Transformed Festival, Liverpool: Power & politics in the C21st with Jeremy Gilbert, Jacqui Howard, Alex Williams & Hilary Wainwright, 25 September 3-5pm, Block E.
South West Surrey: Progressive alliance building in South West Surrey, with Caroline Lucas MP, Vince Cable and Sue Goss, 05 October 2016, 7.30-9.30pm.
Keep your eyes on our events page for more political events throughout the Autumn, and don't forget to read our blog for thought-provoking reads, for example on the feminist case for a basic income, how work is changing or opinion pieces on the current state of British politics.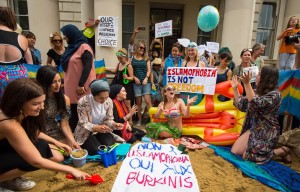 Protestors in central London (Photo PA)
And last, but certainly not least, in response to the horrendous islamophobic and misogynistic ban of women wearing burkinis in France, Compass would like to express both our solidarity with all Muslim women, and give a huge shout out to all the amazing women here in London who organised the #wearwhatyouwant protest at the French Embassy. It is our response and actions in moments like these in history that define our humanity and solidarity and we hope you will stay informed and get involved. If you're looking for some more info:
P.S. Self-nominations are currently open for all Compass members to join our board, if you're a member, have a look here and consider standing to sit on our board and help shape the governance and direction of the organisation. If you're not a member, this is a great time to join, just follow this link and help us build a new politics to change our country.