In this first post in a series in which Compass members explain their parties to outsiders, a Liberal Democrat calls on Labour to understand where he's coming from.
If I walk into a room and there are some Labour-supporting people there, I will instantly gravitate towards them, even if I don't know they're Labour. There's something about the fundamental values and ethics – we might disagree on one or two policies, but we share a deep-rooted concern for all people.
If I walk into a room with some Conservatives, the chances are they'll be polite and well mannered (the Tories generally have the politest supporters), and I'll probably be made to feel welcome, but there won't be the same underlying shared value system, and I might be expected to agree with statements with which I just don't align.
You could say I'm simply one of those liberals who's closer to Labour than the Tories and that there are plenty for whom the opposite is true. But I don't think so. I think anyone who's a liberal because of a belief in liberalism is by definition closer to Labour. In fact, I'd say they share the same motivation – they just come at things from different angles.
And yet, when I attended a meeting on centre-left cooperation at the Labour Party conference fringe in September 2019, I felt like a pariah. Countless speakers referred to Lib Dems using the deliberately pejorative term 'Yellow Tories', frequently with great venom. When Caroline Lucas namechecked me for my work promoting cooperation among Labour, the Lib Dems and the Greens (she, Lisa Nandy and I co-edited a book on the subject), I feared I'd get lynched.
I didn't, of course. Labour people are far too decent to lynch even someone they view as a Yellow Tory, but that gulf in vision needs to be tackled – because Labour won't topple the Tories at the next general election without some help from the Lib Dems, and it would assist the cause of achieving a compassionate government if Labour people can understand the liberal mindset.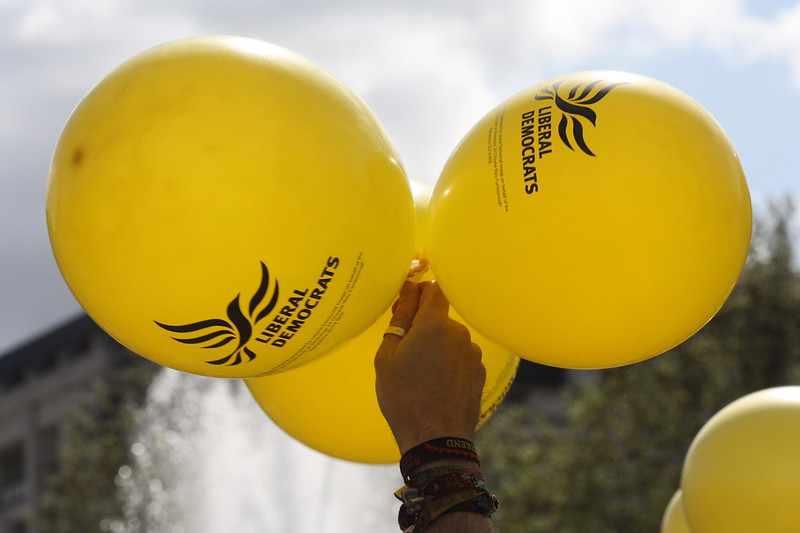 Liberalism began several hundred years ago as a protest against constraints on individual freedom. At first it was freedom to worship, then it developed into freedom to live one's life and run one's business free from unreasonable intervention from figures of authority, be they religious, royal, presidential or parliamentary.
For those offshoots of early liberalism the neoliberals and libertarians, that's where liberalism remains, but British liberalism underwent a significant mutation in the mid-19th century. The burgeoning industrial revolution made the true liberal fear the power of big business and unfettered capitalism as much as the power of the state. Thanks to John Stuart Mill and other writers, liberalism took on a new hue, one that gave it its centrist position – the individual must come first, and anything that threatens the freedom of the individual, whether from the state or big business, is malign.
Obviously freedom is conditional on it not impinging on the freedom of others, so you're not free to abuse people. Take that to its logical conclusion and it means entrepreneurs should not be allowed to become stinking rich by underpaying their employees or failing to give them reasonable shares of profits.
This is where liberals, social democrats and socialists belong together, in opposition to conservatives. Some start from the collective while others start from the individual, so they're different creeds, but in policy terms they frequently end up in the same place.
Liberals' fixation on the welfare of the individual doesn't mean society is unimportant. A compassionate society is crucial, but liberalism sees the justification of any society as being that it allows all individuals to flourish. Any society that constrains individuals – other than for legitimate reasons like maintaining order and levying taxes for the common good – is failing in its purpose.
The big Lib/Lab policy battlegrounds have therefore been on limits-to-authority issues like civil liberties and human rights, core liberal principles – for example when the Lib Dems were outraged at the Labour government's proposal to detain terror suspects for 90 days without charge. Labour's tendency towards authoritarianism frightens liberals, but the areas of fundamental disagreement between liberals and British Labour governments have been relatively few in number, and on issues like welfare, education, internationalism, the environment and (the principles of) democracy there's broad agreement.
The Lib Dems' problem is that we have not gone big enough on what we stand for – this is our guilty secret. We have taken comfort in the centrist position of 'more head than Labour, more heart than the Conservatives' that has allowed us to sweep up disillusioned Labour and Tory voters. But it has meant we haven't promoted what we believe in, and our pragmatic decision to form the 2010–15 coalition defines us in many people's eyes as closer to the Tories than Labour, a view that pays no heed to policies and values. (And yes, we got some things right in coalition and some things wrong – the NHS reforms more than tuition fees – but that's for another day.)
Labour's guilty secret is its tolerance of first past the post (FPTP). It knows FPTP is an affront to the equalities agenda, but it has turned a blind eye for reasons of self-interest – only under FPTP could Labour ever win a majority. But FPTP is not just wrong, it is now working against Labour's interests, both in parliamentary representation and in what Labour wants to achieve. Workers' rights, funding for social services and countless other state-based provisions would never be threatened under a proportional voting system the way they are under the corrupt FPTP.
If a non-Conservative government is to result from the next election, it will be Labour-led but with the support (in some form) of other parties. For that to happen, Labour needs the help of the Lib Dems and/or the SNP. The cost of working with the Lib Dems will be proportional representation, but that's not a pact with the Devil. It's something Labour should be embracing for its own reasons, and if Labour can work with the Lib Dems to see off the Tories in seats which it realistically can't win, it could ensure the Tories never rule with an overall majority again.
I therefore urge Labour to look at the philosophy behind the Lib Dems. Yes, it's different to the philosophy that drove the rise of Labour, but the policies end up looking remarkably similar. It's not just that we aren't 'Yellow Tories' – in the words of one late Labour MP, we have far more in common than that which divide us.
Chris Bowers is a two-term district councillor and four-time parliamentary candidate for the Liberal Democrats. In 2016 he published The Alternative, a collection of essays on progressive cross-party cooperation, co-edited with Caroline Lucas and Lisa Nandy. He is a member of the new Compass Liberal Democrat Network.