A key issue is well expressed in the following interchange.
"Token teenager" invited to ask a question of a panel of middle aged politicos/ business people at an international conference on the climate emergency:
'What age will you be in 2050?'
Embarrassed silence from the "grownups"….
The point is obvious. Young people in the past have been assured of a future. Today's young people see that future disappearing down the plug hole of their elders' disregard for the fragile ecosystem which supports life on earth. And they have no voice in the coercive systems those same elders have built to perpetuate this destruction, while retaining their own power.
Electoral reform must include lowering the voting age in England, and Northern Ireland, to 16, as it already is for national and local elections in Scotland and Wales.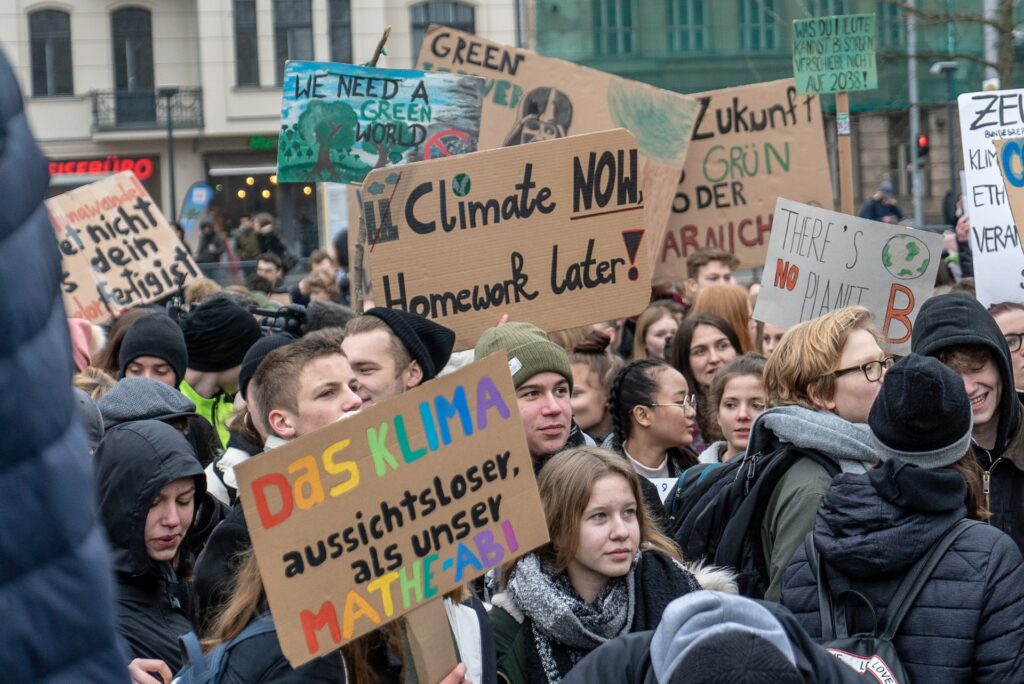 The future belongs to the young, but they do not yet possess it. Especially it is young people who in the longer term will have been worst affected by the Coronovirus pandemic – school and university closures, exams on, then off, then on…. Careers and work all but vanishing, the climate emergency on their near horizon, but still those new and high-skilled jobs which should be part of a Green New Deal remain a tantalizing chimera.
In Britain, the movement to lower the voting age has been gathering momentum. After all, you can marry and pay taxes at 16. In Scotland the 2014 independence referendum was a watershed. More than 100,000 16-17 year olds registered to vote, out of an electorate of 3.6m. All but one of the major political UK parties are in favour and have had votes at 16 in their manifestos in recent years. The Conservatives are against, unsurprisingly, since nearly half of Tory voters are 65 or older. Over half of all Labour voters in the 2019 general election were under 25. And it is women who are by far the most progressive voters – 65% of young women voted Labour against 46% of young men.
This May, 2021, 16 year olds in Wales will vote for the first time for their Senedd representatives, and their local councillors; a major expansion of the franchise. Around 65,000 16/17s are expected to benefit. Legally resident foreign nationals will also be able to vote. Local councils will be able to change from first past the post voting to PR.
These moves are a victory for campaigners across Wales, such as the Electoral Reform Society Cymru and a coalition of youth and civil society campaigners, plus round table workshops with the Children's Commissioner for Wales and her young representatives. In Senedd consultations there were large majorities for such changes. Supporters saw lowering the voting age as a welcome and natural extension of recognising young people's rights, and as increasing participation of young people in the democratic process and decision-making in matters that affect them.
Westminster now looks increasingly isolated for barring the UK's nearly 1.5m 16 and 17 year olds from electing their MP, even though concern about children's education, welfare and rights, has been reflected in parliamentary Acts since the 1870 Education Act.
It's a constitutional injustice that 16 and 17 year olds in England continue to be denied the vote. Extending the franchise for Westminster elections is now a question of 'when', not 'if'.
The voice of young people is needed immediately in local and general elections, especially the next one in 2024, since the outcome of that election will be critical in refocusing democracy and in setting the parameters of the UK's response to the climate emergency.
Further Background
Austria became the first EU country to lower the voting age to 16 (in 2007), closely followed by Malta. Sixteen year olds can also vote in Argentina, Brazil, Cuba, Ecuador, Guernsey, Isle of Man, Jersey, and Nicaragua.
For some countries the lack of a 'youth voice' is particularly tragic. The population of Algeria, for example, is predominantly under 30. The old and rich minority have made their wealth from the country's oil reserves. But for the young the future lies in solar energy.
Caroline Roaf and Sue Ledwith are co-founders of Oxford Democracy Cafe