Race and migration are the most explosive issues in British politics today. In contrast to the tabloid headlines, Our City: Migrants and the Making of Modern Birmingham explores how one of Britain's major cities has been transformed for the better by its migrant population. Based on original interviews, this book tells the story of fifty migrants to Birmingham from all walks of life: first and second generation; men and women; from thirteen different countries from Ireland to India, Pakistan to Poland, the Caribbean to Somalia. This book shows the variety of migrant experience, from their working lives, to education, religion and relationships, and in particular challenges the monolithic views of communitarian authors.
Migrants are and will remain a permanent and growing feature of British and European cities. The book is rooted in Birmingham but places migrants' experiences in the wider context of similar developments taking place in other large British and European cities. This is an optimistic book for challenging times. The book's narrative is an explicit rebuke to the soft nativism of David Goodhart and Blue Labour. Instead, it shows how we can develop mixed, open cities that blend new influences with old and create the intercultural cities that represent Europe's future. You can support this book in two ways.
Visit the book's page: https://unbound.com/books/our-city/. Check out the short video and then make a pledge if you can. Get 10% off your pledge by using the discount code COMPASS10.
Share the book link on your social media accounts -Facebook, Twitter, Instagram, LinkedIn etc.- and  through your own personal networks.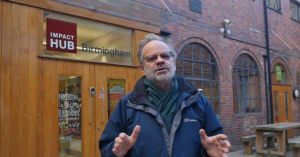 The author, Jon Bloomfield, has lived and worked in Birmingham for more than 40 years.
"This is a much needed book, bringing together the lived experiences of 50 Brummies. It's a breath of fresh air in current #migration 'debate' – I've pledged my support." Salma Yaqoob.