Change:HOW? What a day. Beginnings of ends, ends of beginnings, we're all exhausted. But energized. And feeling excited; excited about what we can all do about our future…
Join us
Events like Change:HOW? are only possible with the support of our members and supporters. Become a member of a democratic political home where values and action matter – join today.
We Opened A Space and dozens of you found it empowering.
 
Check in with reports still coming in and don't forget to submit your own write ups here if you haven't done so already.
No ordinary conference
We tried lots of different ways of doing things – let us know what you loved, what you found challenging and what you'd like to see next time round by filling in our feedback form here.
Missed a session?
Here's the first few recordings including:
Lisa Nandy MP interviewing her inspiration Margaret Aspinall
Jon Cruddas MP interviews his inspiration – Mike Rustin 
The days closing session                                                                                 
Missing mindfulness now that you're back in your everyday?
Check out Headspace and their extra-special offer for all Change:HOW?. Visit Headspace and enter discount code CHHS*. Valid until 31st December 2013.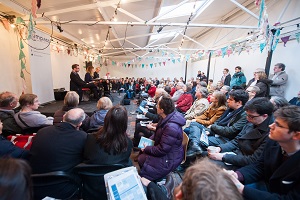 More than just stalls!
Think and do more with Red Pepper, Positive Money, UK Life, Friends of the Earth, World Development Movement, Jubilee Debt Campaign, Pluto Press and Lawrence & Wishart.
More than just chit-chat?
Feeling inspired? Get involved with 21st Century change-makers including Transition Towns, Participle, No Dash for Gas and many more (see here for many more).
Details of all speakers are here – go on, get some more laughs from the likes of Chris Coltrane and Christian Reilly or learn a little more about NEF's values of time and work and let us know what you think about Neal Lawson's conference piece here.
Under 30? Get involved in Compass Youth.
Out of London? We do have local groups – want to start one or know more please email rosie@compassonline.flywheelsites.com
Be the change? Please do sign up to Compass emails, regularly check back on our website and keep the conversations going.
Thanks to those that came for making it such a great day and be sure to stay in touch!