As we contemplate the prospect of five more years of the Tories, I am more convinced than ever that under our broken-beyond-repair electoral system, only a progressive alliance offers real hope of defeating the Conservatives at any future general election.
The UK desperately needs a more plural, representative, fair, democratic politics, but under first-past-the-post, a system fit for the nineteenth, not the twenty-first century, this isn't going to happen. What we have instead is:
Divisive and destructive policies which have gone on for many decades
Unrepresentative, undemocratic government
Rotten boroughs galore, leading to corruption and the expenses scandal
A Union that is breaking apart
A supposed mandate for a hard Brexit which isn't one at all.
And, perhaps worst of all, it gets so-called progressive parties ripping each other to shreds, enabling the Tories to win again and again and again. Just look at Kensington, where the Conservatives won the constituency by just 150 votes, with the progressive vote split between Labour, on 16,618; and the Liberal Democrats on 9,312.
In order to show just how broken the system is, I've gone through all 632 constituencies in England, Scotland and Wales (Northern Irish politics is separate and I've treated it as such). And I've calculated what the results would have been had Labour, the Lib Dems, SNP, Plaid Cymru and the Greens combined their vote, against the Conservatives, Brexit Party and UKIP.
The first thing to say is that this calculation is not perfect. Obviously, some Labour voters would have cast their ballots for the Tories or Brexit party had Labour been part of a progressive alliance. But by the same token, plenty of Tories would probably have gone progressive instead, especially moderate Conservatives who may have been persuaded by the Lib Dems.
Johnson noticeably held on to huge numbers of Tory Remainers, essentially because of their fear of Corbyn. In a straight Tory vs Progressive battle – just one Tory vs one anti-Tory – I think a good number of those voters would probably have switched.
So, how would such an alliance come about? My plan would involve whoever is Labour leader immediately approaching the SNP, Lib Dems, Plaid Cymru and Greens: offering the SNP a second Scottish referendum as well as promising to implement full proportional representation if elected. It would also pledge full-scale devolution across the country: ending the ludicrous, completely unworkable over-centralisation of the British system, and putting power where it belongs. In the hands of local people everywhere.
Then, whoever is best placed – whether they're the sitting MP or came second to the Tories – would fight that seat for the progressive alliance, which would formally join together, rebrand and have its own conference ahead of the election, for one election only.
After the election, if won, PR would be implemented: at which point, all parties would return to normal. And in all likelihood, in some cases at least, split: with new parties emerging.
That would be the end of the tyranny of the minority in the UK.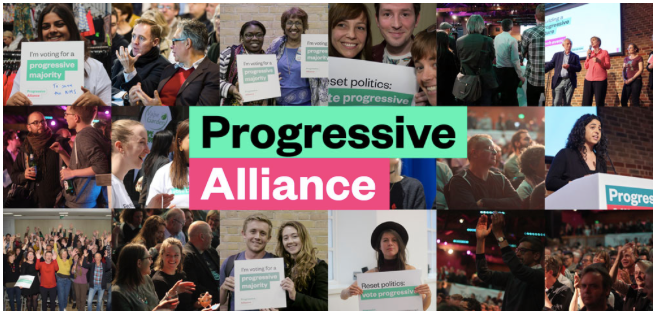 Below, I've set out what the bare numbers say right now. Even though under the scenario which I very strongly propose, the numbers would be different, because the campaign would be fought totally differently on every conceivable level.
First, the following 31 seats would have gone from Tory to a Labour progressive[1]:
Aberconwy
Altrincham and Sale West
Bolton North East
Bridgend
Broxtowe
Bury North
Bury South*
Chingford and Woodford Green
Chipping Barnet
Clwyd South
Delyn
Derby North*
Dewsbury
Durham North West*
Filton and Bradley Stoke
Gedling
Hastings and Rye*
Hendon
High Peak
Kensington
Milton Keynes North
Pudsey*
Reading West
Rushcliffe
Southport
Truro and Falmouth
Warrington South
Watford
Wrexham
Wycombe
Ynys Mon.
Second, the following 5 seats would have gone from Tory to an SNP progressive:
Aberdeenshire West and Kincardine
Berwickshire, Roxburgh and Selkirk
Dumfries and Galloway
Dumfriesshire, Clydesdale and Tweeddale
Moray.
Third, the following 16 seats would have gone from Tory to a Liberal Democrat progressive:
Cambridgeshire South
Carshalton and Wallington
Cheadle
Chelsea and Fulham
Cheltenham
Cities of London and Westminster
Esher and Walton*
Finchley and Golders Green
Guildford*
Hazel Grove
Hitchin and Harpenden
Lewes
St Ives
Wimbledon
Winchester
Wokingham.
Then, there's Hertfordshire South West – had David Gauke fought this seat as part of a progressive alliance (which is, of course, very strongly open to question), he'd have won.
However, there is a flipside. If, to fight a progressive alliance, the Tories, the Brexit Party and/or UKIP had joined forces and only fielded one candidate, the following 15 seats would have moved from Labour to Tory:
Barnsley Central
Barnsley East
Batley and Spen
Dagenham and Rainham
Doncaster Central
Doncaster North
Hartlepool
Hemsworth*
Houghton and Sunderland South
Hull East
Hull West and Hessle
Normanton, Pontefract and Castleford
Rotherham*
Stockton North
Wentworth and Dearne.
Make a note of these 15 seats. If Labour's current direction of travel continues, they're the most vulnerable to the Tories next time. As it is, in the above scenario, both Yvette Cooper and Ed Miliband would have lost their seats.
But against that, Dominic Raab, John Redwood and Iain Duncan-Smith would have lost their seats, Boris Johnson's seat would have been very much in play… and Jacob Rees-Mogg would have barely held North East Somerset at all. Sutton and Cheam, meanwhile, would have been decided by… just 3 votes.
All this despite a supposedly crushing Tory mandate, after a unique election dominated by one issue which will very likely never dominate again, and in which the opposition had the most unpopular leader on record.
In these completely unique circumstances, in which our electoral system forced Labour to try and look both ways at once, and end up getting knocked down on both sides, this is what the parliamentary numbers would look like now (comparisons with the actual seat figures):
Conservatives 327 (365)
Labour 218 (202)[2]
SNP 52 (47)[3]
Lib Dems 27 (11)
DUP 8 (8)
Sinn Fein 7 (7)
Plaid Cymru 4 (4)
SDLP 2 (2)
Independent 2 (1)[4]
Green 1 (1)
Alliance 1 (1)
Speaker 1 (1).
A Tory majority of just 4. Though in fairness to them, with Sinn Fein not taking their seats and the Speaker not voting, it would be a working majority of 12: with the DUP presumably supporting them on all issues not related to Brexit.
It's a measure of how bent this system already is that the Tories would have a majority of 4 despite the national share of the vote (excluding Northern Ireland) looking like this:

CON + BRX + UKIP = 45.7%

LAB + LD + SNP + PC + GRN = 50.8%

Isn't that just completely absurd?
Well dear reader: here's the thing. Next time round, the boundaries will have been rigged even more and there'll be voter ID too. Anyone who thinks that by itself, Labour can somehow turn that around with the Liberal Democrats, Greens, SNP and Plaid Cymru eating into it is away with the fairies.
Labour has not won a proper majority under a leader not named Tony Blair since 1966. Its continued failure to support PR is a monumental act of self-harm, which betrays so many millions it is supposed to stand for. That has to change. The factionalism, sectarianism and blinkered tribalism of the progressive left must change. The country's whole future depends upon it – as it equally depends on others reaching out to and working with Labour, not sabotaging it at election after election, with disastrous consequences for everyone.
'Divide and rule' has served the Tories perfectly for well over 40 years now. We are well past time for all progressives to stop giving them exactly what they want. All of us must unite and display real vision if the UK is ever to have the open, pluralistic politics it so desperately needs. The alternative is an authoritarian, one-party state plunged into darkness.
Shaun Lawson is a teacher and academic editor who, upon seeing the writing on the wall for the UK all too clearly, left the country in 2012 and moved to Uruguay. His book, How Britain Lost The Plot, will be published in the next few days. Follow him on Twitter: @shaunjlawson
---
[1] Those I've asterisked are those where the outcome isn't 100% clear, usually because of the role played by local independent candidates. Under my scenario, I'd hope they would step aside
[2] The actual Labour seat total is 202, not 203 as widely quoted across many outlets. It doesn't include Lindsay Hoyle, the Speaker.
[3] The actual SNP total is 47, not 48. It doesn't include Neale Hanvey, who had the whip withdrawn and is currently sitting as an independent.
[4] The figure of 2 under a progressive alliance includes David Gauke.