Our petition demanding a Citizens' Assembly for Brexit has now reached 75k signatories and we've been looking at the comments to find out more about why this solution to the impasse seems so popular.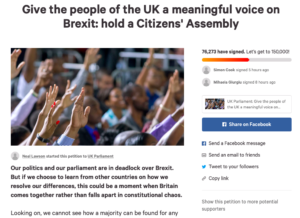 One sentiment that many people expressed upon signing the petition, was despair with politicians and their handling of the situation. What signatories want is for the public to be brought back into the conversation:
"It's time for the people in the UK to demand a clear set of proposals and a way of participating in the decision making for our nation's future."
Those who signed so far made many different suggestions for what should happen next, but what they tend to agree on is that we need a fundamentally democratic solution that takes into consideration everyone's views:
"Discussion, listening and productive conversation are the only way out of this mess. Brexit is way more complicated than a series of binary black & white decisions, and beyond party lines. This is an opportunity to re-think who we are and where & what we want to be. Let's talk"
"I want a consensus decision that respects different views and interests and this is the best way of going about it."
"I am signing because this offers a way of engaging people who are not normally heard in public debate."
People who signed the petition weren't asked specifically to say whether in 2016 they voted Leave or Remain, or indeed whether they voted at all. Looking at some of the comments, it appears that there are people from all these groups among those demanding a Citizens' Assembly on Brexit.
Faced with a deadlock which only encourages partisanship and division, people are warming to the idea of a neutral forum where a broad range of evidence and arguments will be heard and ultimately weighed-up:
"The unfortunate fact is that many people see this as a black and white in/out decision, there are benefits to staying and benefits for leaving. An intelligent argument would see all of us discussing the pros and cons"
But it was not just the Brexit logjam that people were thinking of when they signed the petition. Many saw the prospect of a citizens' assembly as a different, better way of doing politics, involving the public in much more meaningful ways:
"I would support anything to get a better more effective kind of politics and properly informed public discussion in the country which helps heal all the exaggerated rifts derisive politics has created."
"We need a radical rethink because the current UK political system isn't working. If implemented well this could be part of the solution."
We are immensely grateful to everyone who has already signed the petition and your comments are helping us make the case better. We will continue to advocate for a Citizens' Assembly of Brexit, and indeed for more participatory and collaborative democracy allround.

We are living a unique crisis of our democratic system – a Citizens' Assembly on Brexit will be an important step to bring us towards a new democratic settlement for the 21stcentury, negotiated by all of us and not just imposed by any one of us.
If you haven't signed the petition yet – please do so now!
Donate to support our campaign and make a citizens' assembly happen.