We have woken up to the UK's biggest democratic and political crisis of modern times. Our Government is not serving our Parliament. Our democracy is not serving us, the people.
Yes, of course this has something to do with Boris Johnson and Dominic Cummings, but they are distractions compared to the undercurrents that have been churning for decades.
It's our system that breeds politicians like Johnson and their behaviour and it's our system that allows them to exploit divisive tactics such as proroguing Parliament in the face of a disastrous No-Deal Brexit.
It is also our broken political and democratic system that brought us the irresponsible EU Referendum, fuelled division and polarisation, and then gave us three years of party-political game playing with a resolution no closer than it was on 24 June 2016.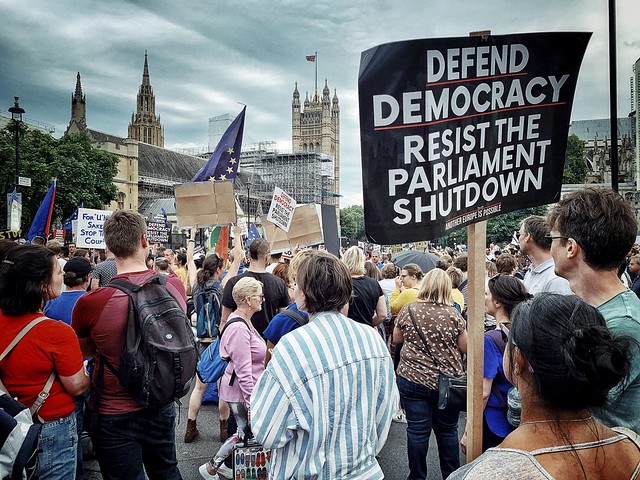 The outrage that many are feeling right now is entirely justified. We feel it too. But let's address the causes and not the symptoms: calling to protect our democracy isn't enough – we need to transform it.
The Good Society we want – one where we all live fulfilling and sustainable lives – we will only make it happen through an open, inclusive, and compassionate democracy. That is why Compass' focus is on changing the rotten foundations of our system, rather than on day-to-day hand fights.
It's becoming ever clearer how urgent this is. Opinion polls are showing that huge numbers of people now believe that our democratic and political system is broken. Democracy has become a doorstep issue, for the first time ever. In an increasingly fractured society, our desire for better democracy has become a point of unity.
But where is the political response to this? While the Tory Government is outrageously abusing the system, Labour shows few real signs of wanting to transform it. And without deep, democratic reform, the crisis will simply fester, whoever wins any election.
As our politicians are occupied trying to rule a dying system, it's up to us to start building the political structures and cultures that fit our 21st-century society. We, the people will have to show the way.
Compass is mobilising to help make this happen, now, working together with anyone and everyone who's up for transforming the UK's democracy. This initiative will go by the name of We, the People.
We are bringing people and organisations together to realise long overdue reforms, from a written constitution to a proportional voting system for all elections, and from greater devolution to a reformed second chamber.
But importantly, we are looking beyond these necessary fixes, to new participative and deliberative forms of democracy, which have the power to truly transform how we decide and do things in our country and in our daily lives. With Compass' help, citizens' assemblies have now firmly got onto the political agenda, and deliberative democracy is set to play a much greater role in our society, not least through a people's convention to determine the shape of new democratic institutions.
It doesn't stop at changing our systems, though. It can't. This is as much about behaviour – our democratic culture. We need a politics that is empathetic, collaborative and inquiring. And through We, the People and over the course of any election campaign we will keep pushing to ensure a new politics comes with new practices, not just with new institutions.
We live in a historic moment. It's much bigger than Brexit or what party has the upper hand in our ailing democracy. The Brexit chaos and the democratic crisis are symptoms of a failed politics. Nothing will ever get better until we have democracy fit for the 21st century. Compass will put every ounce of its energy, creativity and influence into building democratic institutions and behaviours that make a Good Society possible.
We need your help to make lasting change happen! Here's what you can do:
Join Compass – the political home for people who believe in a Good Society and know we have to change the system to change society.
Start the conversation on Twitter – how do we fix our broken politics?
Support our work – help us build a movement for a new democracy.
Share your views – let us know what you think below.
Your democracy needs you. Thank you for being with us in this effort. There has never been a better time for it.