After huge set backs like Brexit and the last election, now is the time to find the space to think, talk and discuss what's gone wrong and how we put it right.
It's also the time to support existing leaders, and to find and develop the next wave who can help build a good society.
We're starting the conversation with a new podcast series called It's Bloody Complicated. Download the first episode here with Clive Lewis, MP for Norwich South.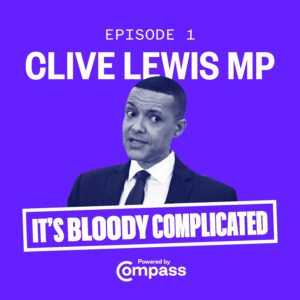 Clive made a splash with his early run for the Labour leadership highlighting key Compass projects like the Progressive Alliance, the need for Labour to back PR, talking with the SNP, basic income and much more.
In this episode, Clive discusses all of these topics with me, Neal Lawson, and Compass members who joined the conversation live.
It's Bloody Complicated is a monthly podcast that features thinkers, politicians, journalists, and community activists from across the progressive spectrum. Watch this space for next month's guest.
Compass members can join the call live each month and get the chance to put their points and questions directly to our guests. To take part, join here:
https://action.compassonline.org.uk/podcast

You'll get all the benefits of membership and play an important role in changing politics for the better.
Finally if there is someone you want to hear interviewed then let us know your ideas. Drop us a message via Twitter or send me an email.

I hope you enjoy the discussion – Clive shows us what we have missed out on in the Labour leadership debate.