"A society cannot be free and is very unlikely to be successful for long unless the men and women in it have real power to determine their own destiny. The one thing that unfailingly gives me satisfaction in politics is to watch those who have been taught they are the subject of others' power, rise to meet the challenge of power in their own hands – and then be unbelieving at what they are able to do."
The late Paddy Ashdown wrote these words 30 years ago, concluding his book Citizens' Britain: A Radical Agenda for the 1990s. In the book, Ashdown sets up a contrast between two visions of the future: Citadel Britain on the one hand, a nation where "the highest levels of finance, government and the security apparatus have used their access to advanced technology as the means of increasing their power at the expense of wider society"; and Citizens' Britain on the other, in which "technology has not been used to concentrate power but to disperse it… giving more people control over their own lives and over the organisations which influence them."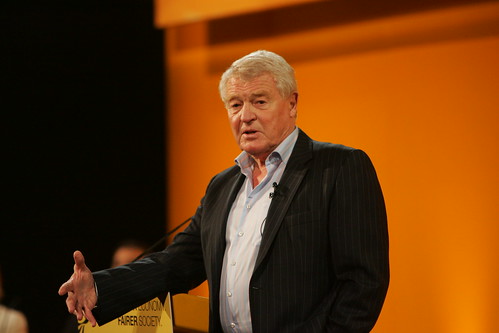 In shaping out the possibilities of Citizens' Britain, he discusses Universal Basic Income, participatory democracy, universal share ownership, and stakeholder capitalism… in 1989. It is a work of astonishing prescience and enduring relevance. But what Ashdown articulated above all in that book is the idea that sits at the heart of the political philosophy of the Liberal Democrats: the idea of the empowered citizen. This is an idea that Britain needs now more than ever, and if we can unearth it from where it has lain hidden these last chaotic years, we can be the party that Britain needs us to be, now more than ever. 
To do this requires us first to face into the painful truth of our failure in this election. It is not wrong to point out that we were the only party to increase our share of the vote, and indeed that we did so in every region. But from there you will hear the argument that our only failure was in turning this into seats, and that this was down to a combination of the Brexit Party's withdrawal, Labour's ultimately self-destructive obsession with beating us instead of looking to their heartlands, and the media's refusal to give us a platform. You will hear that we did nothing wrong, but were simply victims of circumstance.
This diagnosis is appealing because it is gentle to those in most pain: Jo Swinson and her team will be hurting deeply now, and we liberals hate to see nice people suffer. But it excuses too much. I was part of the team at progressive political consultancy Datapraxis during the election, with access to daily updates from the YouGov MRP (multi-level regression and post-stratification polling) and to our own bespoke message testing and other research. The data I saw made clear that the shift to Revoke was a step too far, was perceived as neither liberal nor democratic, and made the party seem like just another extreme instead of the calm and pragmatic alternative. "Jo Swinson could be the next prime minister" was among the worst messages Datapraxis has ever tested, in this country or elsewhere. And as the election progressed, it became clear that Liberal Democrat central messaging was not sufficiently focused on attracting Conservative Remain voters, becoming drawn instead into a fight with Labour that the party should arguably have risen above, given the greater threat to liberal values of the situation in which we now find ourselves: a Johnson-led Conservative majority.
A gentle diagnosis would therefore be wrong, but more importantly, it would be dangerous, because it would leave open the path towards the sloppy technocratic land of "I told you so". Such a path would see us replace "Revoke" with "Rejoin", and take the role of Cassandra in the new parliament, forever focused on the misery to come. We would compete with Labour and the SNP to score points against the Conservatives, but our small voice would never lead to any change or progress. This path would lead to a future of ever-increasing isolation, ever-decreasing relevance, and a total absence of distinctive contribution to the questions of the day. This is a Liberal Democrat Party that Britain, quite frankly, does not need – and if this is the path we choose, then the commentariat who have begun to call for our demise might be right.
What we must do instead, to be the party Britain needs us to be, is to go back to the idea of the empowered citizen, and build from there. This approach would see us analyse the many likely threats Johnson poses to liberal values, and focus our efforts on the most significant and structural; as the thinly veiled threats to legislature and judiciary on page 48 of the Conservative manifesto suggest, these might not always be the most visible. It would accept the loss of EU membership, for now at least, and instead focus in on the disempowerment that made Brexit happen. We must understand why "take back control" was such a powerful message, and address people's growing insecurities in an alternative, authentically liberal way.
This work would be easier with a larger contingent in the House of Commons. But that is not a necessity. The empowered citizen's time has come, and she is popping up everywhere: in the renaissance of cooperative, community and purpose-led business, soon to be celebrated at the Good Business Festival in Liverpool next October; in the explosion of civic initiatives like the awesomely ambitious Every One Every Day in Barking and Dagenham; and in the bubbling of participatory democracy, with manifestations including a whole host of citizens' assemblies to develop climate change strategies, instigated by local authorities across the country.
Empowered citizens have been gaining momentum over recent years; but with renewed focus, even with our paltry numbers in the House of Commons, there is a huge amount that our party can do to support them.
It is paradoxical but nevertheless true that the House of Lords will be a crucial bulwark for protecting our democratic institutions and civil society in the coming years. This is an institution that badly needs reinvention, and one Cummings and Johnson will aim to destroy if it gets in their way. But Liberal Democrats are well represented here. For as long as the Lords exists, perhaps our peers can use their borrowed power to put civic power at the heart of British government; and if Cummings and Johnson want to create the People's Parliament, why not do what the German-speaking part of Belgium has done, and create alongside or in place of the House of Lords a standing Citizens' Assembly, chosen by lot to hold the House of Commons to account?
The logic extends to another even more often overlooked but vital part of the party: our hundreds of councillors, and in particular the 25 councils where we have majority control. These can and must become vital testing grounds for the unleashing of the empowered citizen. As Wigan Council has shown with the Wigan Deal, alongside many other examples celebrated in the work of pioneering organisations like the New Local Government Network, the Centre for Public Impact, and Collaborate (as well as my own organisation, the New Citizenship Project), the idea of the Council is shifting from service provider to enabler. There is huge power to be unleashed here, and Liberal Democrats can and must be at the forefront.
Finally, there is the membership. Our party now has over 100,000 members, and we are some of the most creative, energetic, and committed citizens in the country. There is no telling what we can do, even under a national government that will doubtless discourage us.
Of course, the MPs matter too. But if the rest of us can back them up like this, we can give them a focus and clarity of role in the Commons and make them able to pack a punch that far exceeds their weight in numbers.
The starting point in all this is to realise that the party is not just a tool for electing and supporting MPs, but rather that we must all, as a party and individuals, practise what we would preach, and meet the challenge of the power we have as citizens. We must accept that we are not going to be Britain's third big party or the official opposition in this Parliament – but we do not need to be to effect great and positive change. If we make the empowered citizen our hero and our cause, we can make British politics better – and that is a far bigger and more important victory. 
This brings me, finally, to our relationship with the Labour Party. This is at its lowest ebb, and both sides have had their parts to play in that. But the empowered citizen needs us to turn the other cheek. As Liberals have done from William Beveridge through to Paddy Ashdown, we can and must define the space in which politics develops, not be dragged down into the fight for ground that in the wider view is already lost. If we do this, we can and will make the Labour Party better and win more seats ourselves, as we have done in the past. This is the path to electoral success, but more importantly it is what the empowered citizen and indeed the cause of creating Citizens' Britain require of us, if we are to be the Liberal Democrat Party that the country needs us to be. As Paddy Ashdown liked to say, quoting Lyndon Johnson: "Yesterday is not ours to recover, but tomorrow is ours to win or lose."
Jon Alexander is a member of the Liberal Democrats and Co-Founder of the New Citizenship Project, an innovation company which promotes the role of people and encourages better participation in society.