The aftershocks of Brexit keep coming. The leavers leave, resignations abound, a new Prime Minister and another Labour leadership election – the second in a year. And this is just the start.
Compass wants to keep thinking, listening, learning, and to start organising more. Our Management Committee met last week (its final meeting before new elections over the summer – more info coming soon!) and some of our thoughts are below. We really want to know what you think and to keep the conversation going, so please share your thoughts and debate below.
For some, Brexit is just business as usual: the politics of being in control and telling people what to do. For all of us, it's a wake up call. It is the unveiling of realities that we have failed to deal with – the ongoing impact of and nostalgia for Empire, the economic and social disenfranchisement of people across the UK, of these and more conditions that fuel racism, xenophobia and exclusion. None of this appeared over night, and it shows that unless we challenge the economic, social and political root causes, we are not creating real change.
For Compass, it is a moment that revealed the rotten democratic and economic system that can't fulfil its basic job description. It has shown the need for a radical shift not only in our formal political system, but also in how we do politics. Who is listened to and who is excluded? Whose interests are being heard? Who is defining the culture, process and spaces in which politics happens? Who does politics and whom is it done to? These are all fundamental questions, and the answers should show us what we need to do and how.
Compass' decision to shift away from being a Labour pressure group to working with all progressive parties, social movements and civil society years ago was a step in the right direction. We believed, and still do, that we need all these different forces to make change happen. We still have a long way to go.
Now, following the referendum, the idea of progressive alliances has come to life. What exactly this looks like, how it could work and how we make it happen are key questions we need to figure out together.
As a start, on 5th July, Compass brought together over a 1000 people to discuss the idea. The online recording has been watched over 20,000 times and we've had so many requests for local, regional and national follow-up meetings. We are a tiny team and can't do this ourselves, and we don't want to.
Can you run a meeting where you live? Details of how are here, and you can get in touch with us at the office and we'll do what we can to support.
Given Labour's crisis and the sudden solidity of the Tories around Theresa May, the only option now is a progressive alliance: an alliance that can usher in proportional representation and kick-start the process of re-democratising our nations. In places like Brighton and South West Surrey, Compass members are trying to foster active local progressive alliances. It's a good start.
This process might need to be accelerated.  The Tories are busy polling to see if a snap election could secure a bigger majority without waiting for the boundary changes, that would still kick in and cement their position in government. There is potential of the birth of an Aaron Banks funded new UKIP, whose aim is to take 30-40 seats from Labour's former heartland.
But the idea of a progressive alliance – or whatever we call it – has to be so much more than re-arranging the deck chairs on the Titanic.  There are two main problems: Even if the Labour Party, the biggest tent in the progressive campsite, got on board, would such a coalition beat the Tories given Labour's current crisis?  We can only try.  But even if we win, the big question is if a coalition of old parties that are part of the current system will be able to change it.
Through all the conversation we've had so far and feedback we've gotten, what is clear is that people feel we need alliances with civil society, social movements, faith groups and more, and that we need alliances that are community and people-led. Progressive alliances must be embedded in civil society as much as anywhere, creating the pressure for, in the first instance, our parties to change. Excellent new initiatives like The Alternative edited by Lisa Nandy MP, Caroline Lucas MP and Chris Bowers that Compass has helped get off the ground are starting to prepare the foundations for a new politics.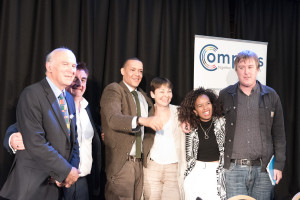 As an organization, we recognise the political urgency of gaining electoral power, and at the same time that this is inadequate. What if we could organise and prefigure what a new politics looks and feels like, a politics that is inclusive, open, visionary, hopeful, participatory and pluralist? What Compass can do is help carve out spaces, politics, conversations and actions that bridge the old politics and the new, the cities and the heartlands, red and greens, the horizontal movements and the vertical party politics. For too long we have been trying to build on an old wasteland.
As both the Green and Labour parties are having elections, who leads them is important, but what matters way beyond personality are the ideas and movements that can genuinely transform our politics. Compass will be focusing on that. Whether Labour hits the iceberg slightly to the left or the right misses the point. Splints and splinters might now be inevitable. As we watch the truly tragic farce of politics unfold and the real life impact it is having on peoples lives, what seems to be missing are politics, policies and parties that are relevant to the 21st C.
Compass aims to help build a society that tackles structural oppression at its core, that is not merely inclusive but is defined and led by people, and in which we co-exist as humans and with our environment. Sometimes the depth and the challenge of this feels unmanageable, but there is no choice but to all do everything we possibly can. At the moment, people are joining Compass in record number and getting stuck in organising locally, regionally and nationally.
If you want to shape what we do and support the independence of Compass, please consider becoming a member and contributing monthly. If you specifically want to financially support the progressive alliance work, please consider contributing to our crowdfunder. Without your support, we can't continue putting on events like the one in London, putting together toolkits, or supporting upcoming events in Liverpool, South West Surrey & more – make sure to keep an eye on our events page for details.
Join the conversation by commenting below, and do get involved in any way you can to start building new alliances. As June Jordan says 'we are the people we have been waiting for'.
Love and strength