In the first in a new series highlighting the ideas, energy and action of young progressives, Zoya Khan reflects on her work placement with Compass – and the lessons for progressive parties.
For a month earlier this year I did a work placement with Compass, which was very rewarding. At Compass I assisted with Progressive Majority work, podcast episodes and social media. The way in which the Compass team included me in various decision-making processes and granted me independence with my tasks has opened my eyes to how political parties should give more responsibilities to their young members. Having this independence has boosted my confidence and expanded my experience.
My involvement with politics and my political activism is focused in the youth wing of the Labour Party. Political parties' youth wings are established with the intention of attracting younger members, and to be less intimidating in comparison to being heavily involved with the main organisation. After my placement with Compass, I better understand the work that needs to be done to integrate youth members into the main party.
While the youth wings of parties encourage the increased participation of young people in politics, it is worth noting that, in terms of their position on policies and events such as conferences, they have some independence from the main party. This independence and fractional divide from the main party demonstrates a reluctance by political parties to give their young members too great a responsibility or voice in their main policy discussions. However, to make getting involved in the main parties less intimidating, the parties must take steps to give them more responsibilities, or young people will not be aware of how to work under the main-party pressures in the future.
Youth membership in political parties is positive because of how it strengthens democracy and increases youth representation. The young, being the future and the next generation of political leaders, can bring fresh ideas and perspectives to the party. Their different standpoints on intergenerational issues such as housing could, if taken into consideration in party policymaking, increase votes and support among the young. And with their expertise in the use of technology, for example, they can certainly make positive contributions, elevating digital campaigns.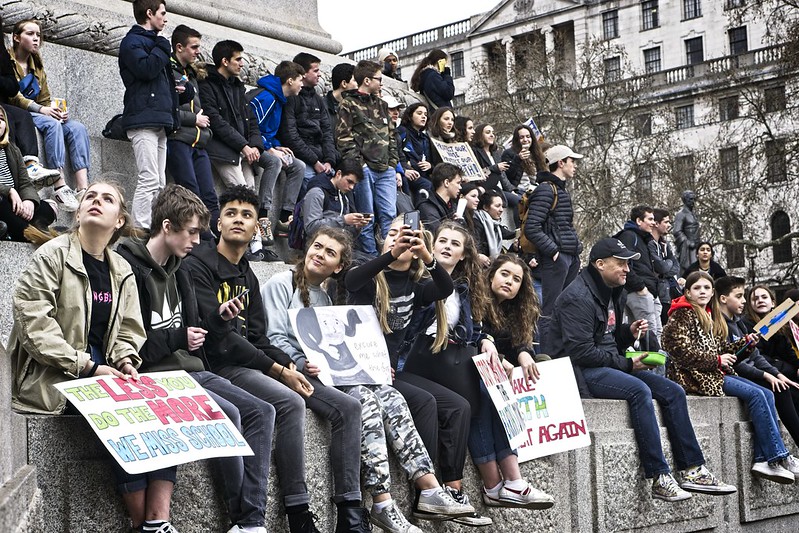 The 2017 General Election was regarded as a landmark election for 18–24-year olds. That election showed how the youth vote can impact results. But it's important to remember that youth turnout was still low, between 40% and 50%. This wasn't much better in the 2019 election: in the 65 'youngest' constituencies, turnout ranged between 53% and 77%, whereas in the 'oldest' 65 constituencies it was between 61% and 78%.
A new approach is required to increase youth turnout and political engagement, with a particular focus on the opportunities offered to young people within political parties. Youth wings hardly equip the young for larger roles within the main party, meaning they have limited experience and skills. More autonomy needs to be given to the youth wings of political parties so that young people can better run them and gain more appropriate experience for working within the main party. Youth sections need more control over the allocation of their budget, for example, to strengthen their independence and skills. This increase in control should also extend to decision-making on policy, where the youth wing should have more of say on the manifesto, for instance, to better reflect their age – especially if youth-voter turnout is to increase. That said, this does not mean that the older generations and members should be removed from their roles. Rather, there should a shadowing scheme for those who want to improve their understanding and insight.
My placement with Compass included working towards better youth inclusion. I commissioned more young people for Compass' blog to increase representation and get a better understanding of what issues and progressive policy areas concern them. To do so I made use of the social media platform with the largest youth following, creating a graphic. Compass is well-positioned to influence parties' approaches to youth inclusion because it is not single-party-focused: it works between progressive parties, so has a good idea of the politics behind each.
My other responsibilities included working behind the scenes on It's Bloody Complicated, the Compass podcast. I helped organise the running of the live recordings, moderating questions, and helped promote the episodes on social media in advance to ensure a healthy audience. I also produced an executive summary of We Divide They Conquer, Compass' report on the electoral conundrum facing progressives, which helped shape my understanding of how progressive alliances are needed in this political climate, when it's unlikely a progressive party can gain a stable majority single-handedly. It was also my responsibility to help format the summary and discuss how and where to send and promote it. To build on this, I researched where local progressive alliances have been working and have been successful. This included emailing local authorities where progressives had collaborated, then condensing their answers into a report. Having some control over the research, such as the timeframe, who to contact and what to ask, alongside my main responsibilities with the podcast and blog, bettered my skills and experience to continue working in the political field.
Overall, my experience with Compass has given me the confidence and motivation to be more involved with party politics, rather than mainly restricting my activity to the youth division. For there to be a progressive victory, the new generation need to be actively involved with the main decision-making process. In such circumstances, where the age profile of political parties is older, there is a great need for more youth inclusion and representation. I would encourage other young people to be more involved with Compass, whether that is submitting a blog piece or following along with the publications and podcast. Participating in these political activities and discussion can be a boost to confidence, acting as a foundation for future political engagement. Not only this, but as I have witnessed, the live podcast episodes are a great way to ask questions, network with like-minded people and build on your political knowledge.
In short, political parties need to integrate young people better into their main organisations, rather than having entirely separate youth divisions. I can understand first-hand, thanks to my work placement with Compass, how increased responsibility and independence when it comes to decision-making can boost confidence. Encouraging young people to be more active in the main division of political parties, and thereby increasing their representation, could in turn increase political support from young people.
---
Zoya Khan is a Politics and International Relations student at Goldsmiths, University of London, and co-curator of Young Voices.
Young Voices is a new series from Compass, highlighting the ideas, energy and action of Generation Left. If you have an idea for a blog post, get in touch.