This is your essential guide to tactical campaigning. Find out where it will make a difference and how you can get involved.
Only days to go in the 2019 general election campaign. The stakes are high and the odds are against us. Progressives of all ilks have no choice but to work together.
The only route to a progressive victory is to be clever, pragmatic and generous: look at the bigger picture and focus on the battles that your party can win; leave it to progressive allies to defeat the Tories elsewhere. That's tactical campaigning.
We've looked into where tactical campaigning will be most likely to have an impact. Looking at a host of criteria and data from various sources, we've developed the Tactical Campaigning Power Chart: 71 (was 63) constituencies where tactical campaigning will make all the difference.
>>> UPDATE ALERT: Recommendations updated on 6 December 2019
We've kept an eye on how polling and modelling have been evolving over the past week and we've spoken to people on the ground and in fellow campaigning organisations. This has helped us to update our tactical campaigning recommendations for the final week. For the sake of transparency, our original recommendations are still visible below.
In order to better direct campaigners to constituencies that are likely to decide whether we'll have a Progressive or a Conservative majority, we've updated our methodology on one point. Instead of using the 2017 result as a measure for how 'marginal' a seat is, we've amalgamated projection data from Electoral Calculus and the YouGov MRP – both of which claim to incorporate the latest polling from multiple pollsters.
Here is our updated Tactical Campaigning Power Chart for all constituencies with a Tactical Power score of 5 or above.
Tactical Power 9

Tactical Power 8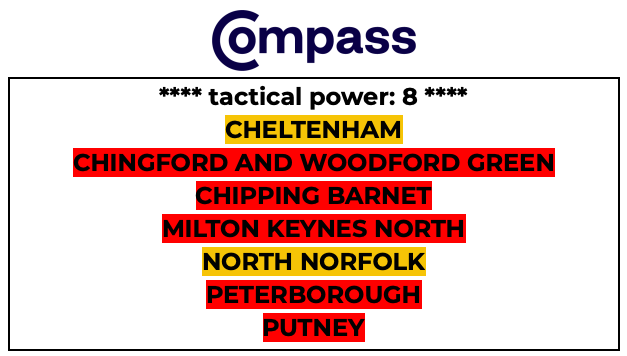 Tactical Power 7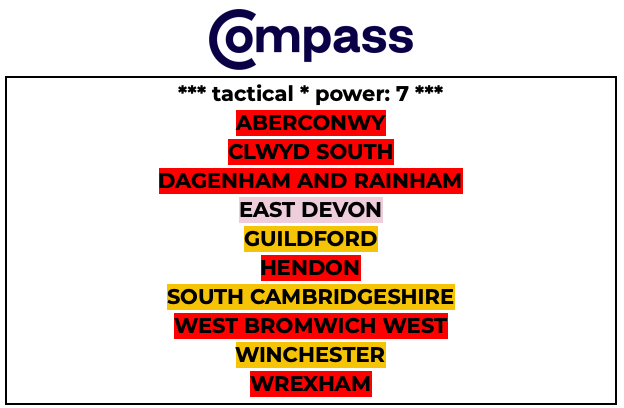 Tactical Power 6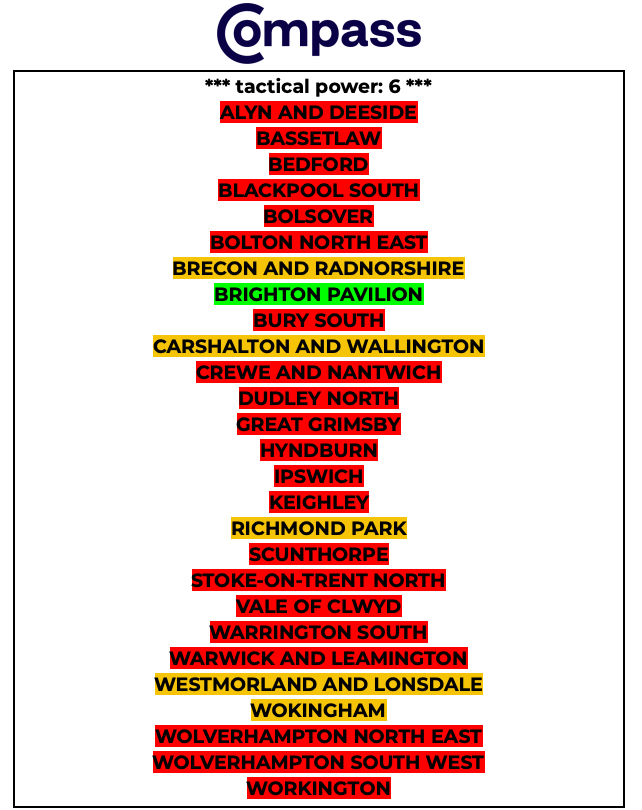 Tactical Power 5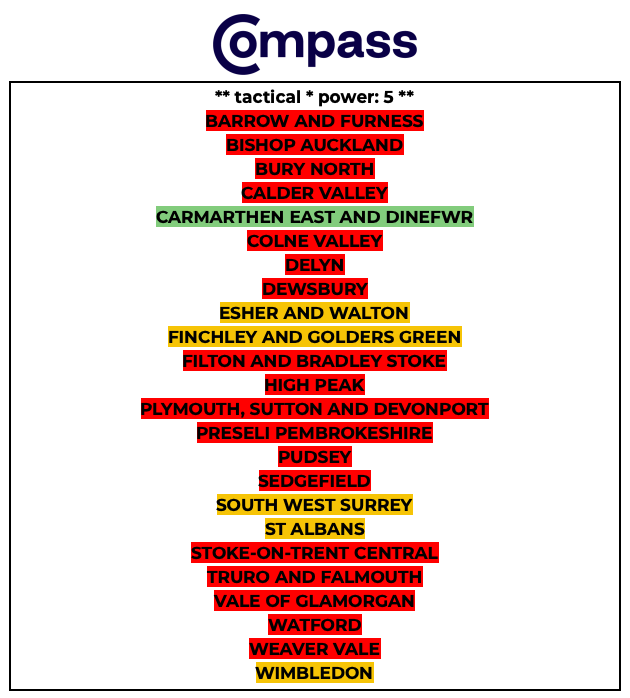 Also updated: risk constituencies where progressive tragedies may occur.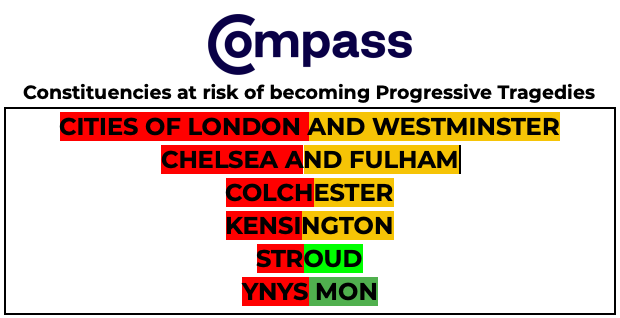 End of update, original (27 November 2019) post below. <<<
Introducing the Tactical Campaigning Power Chart
To determine the Tactical Power score of constituencies, we've looked at a range of variables. A seat will have a higher score if:
The result was (very) marginal at the 2017 general election
A majority voted for progressive parties at the 2017 general election
The electorate is estimated to be Remain-leaning (a higher score for 'target' seats)
The electorate is estimated to be Leave-leaning (a higher score for 'defend' seats)
One or more of the progressive parties is not standing to help others
There's a nearby constituency to campaign tactically for a different party
Tactical voting websites' recommendations for the seat are unanimous
The organisation Campaign Together is active in the constituency.
In addition, one bonus point was attributed to seats where we thought progressives would be extra motivated to campaign, either because of the personality of the Tory incumbent or challenger, or because the progressive frontrunner is especially exciting. This boosted the scores of seats such as Chingford & Woodford Green and Esher & Walton.
Constituencies could collect a maximum of 10 points through our Tactical Power analysis. Having put all English and Welsh constituencies* through the analysis, we were pleased to find six constituencies with a Tactical Power score of 8. This means they come close to meeting all the criteria for being the ideal place for tactical campaigning. If you are near any of these places, and you want to make a difference, go there!
* We have looked at seats in England and Wales only. That's not because tactical campaigning won't make a difference in Scotland or in Northern Ireland, but because there are other factors at play in the politics of these countries, which our method could not adequately deal with.
Tactical Campaigning Power Charts
We've applied highlighting to indicate who to campaign for in each constituency: red for Labour, yellow for Lib Dems, dark green for Plaid Cymru, and bright green for the Green Party.
Tactical Power 8 – these are the constituencies where tactical campaigning is likely to have the greatest impact.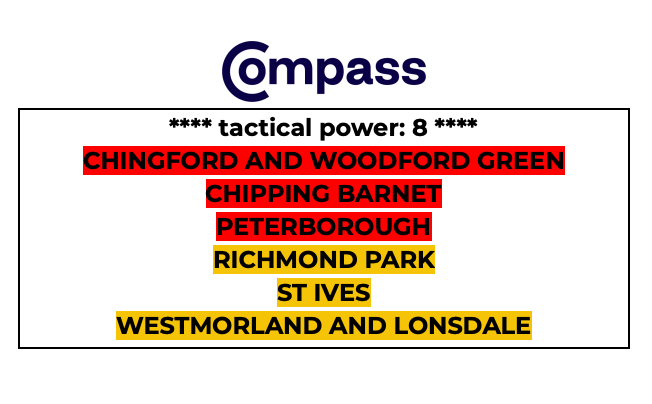 Tactical Power 7 – tactical campaigning is also likely to have a very big impact in these constituencies.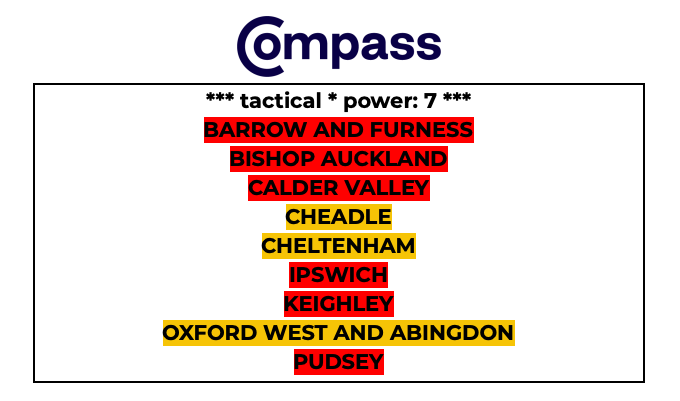 Tactical Power 6 – these are still among the best constituencies for tactical campaigning – go here if you can't go to any of the seats above.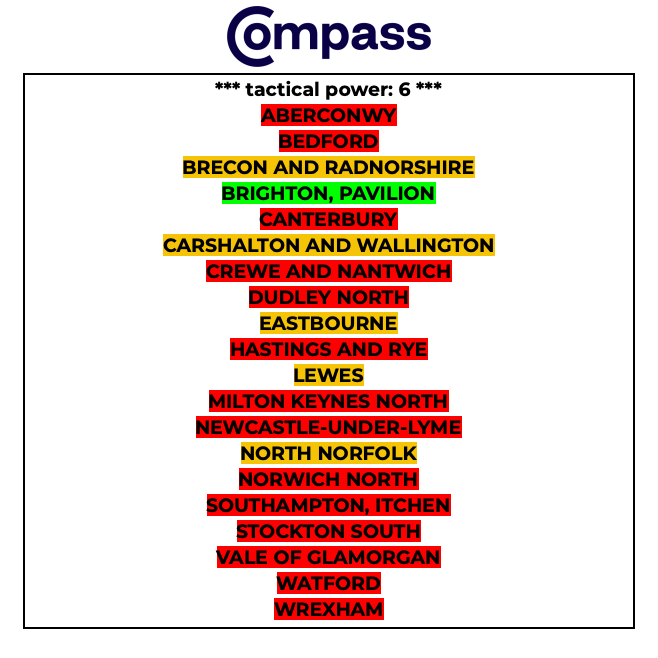 Tactical Power 5 – if you live near any of these seats, and you can't go to any of the ones above, tactical campaigning here is also very important.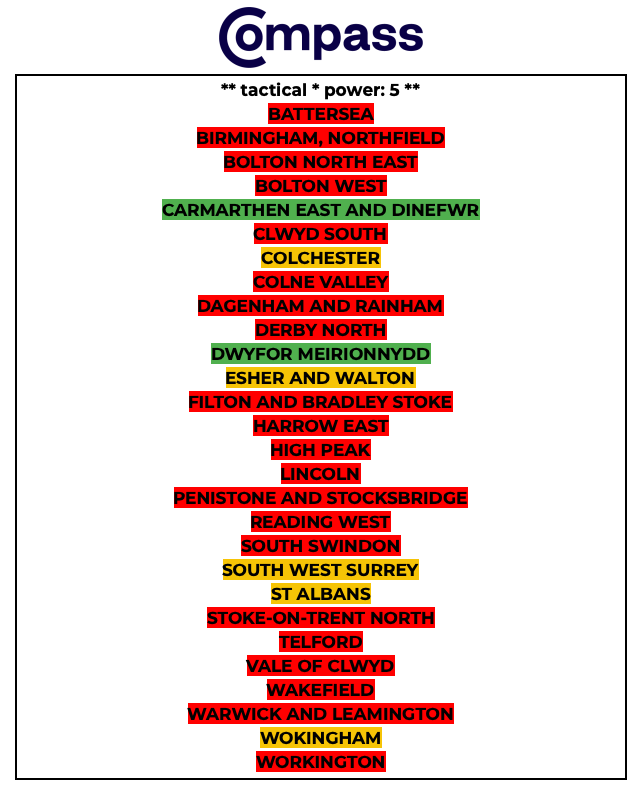 Tragedies in the making?
There is a bunch of constituencies – thankfully a relatively small bunch – which would have doubtlessly made it into the higher echelons of the Tactical Campaigning Power Chart, but which are too close to call for us. Put simply: tactical campaigning would almost certainly return a progressive MP in all these seats, if only parties and voters could agree on which progressive party to prioritise. The list is below.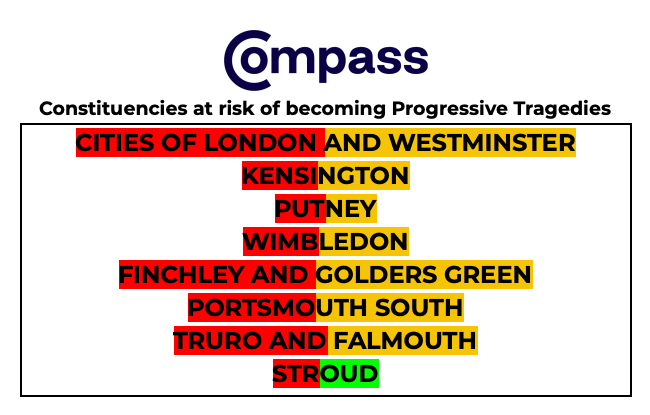 Special mentions
Finally, there are a few seats where some fantastic progressive candidates are fighting an uphill but winnable battle to create a major upset and beat the incumbent Tory. These are progressive candidates who would make Westminster a different place if they were elected, because they have shown to understand what 'doing politics differently' means.
Please support the campaigns of: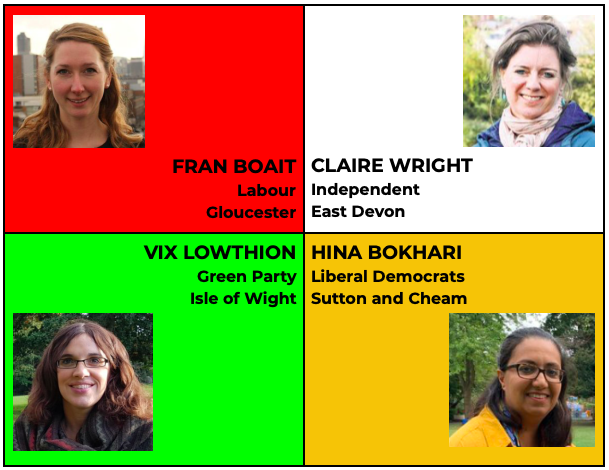 Get tactical, get involved
Click here to find out how to support Labour candidates' campaigns
Click here to volunteer for the Liberal Democrats, or go straight to
To campaign for the Green Party, click here: Brighton | Isle of Wight
Click here to campaign for Plaid Cymru, or: Carmarthen | Dwyfor
Click here to campaign for Claire Wright in East Devon
Click here to campaign in a marginal seat with Campaign Together.