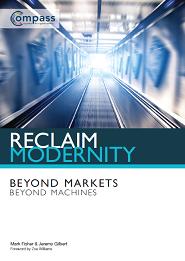 This new Compass publication, Reclaim Modernity, ignites a towering inferno of hope. It does so by calmly and clearly explaining that we are in a unique moment of history. The way the world is developing can be in tune with our values. We don't have to fear modernity, or capitulate to it. It doesn't have to be the acceleration of everything that's bad about the present. It could actually be better.
Reclaim Modernity helps us understand why the bureaucratic state always had it limits and the free market was never going to be the antidote.
Read the report
Read the report
Enter your email and we'll send this report straight to your inbox!