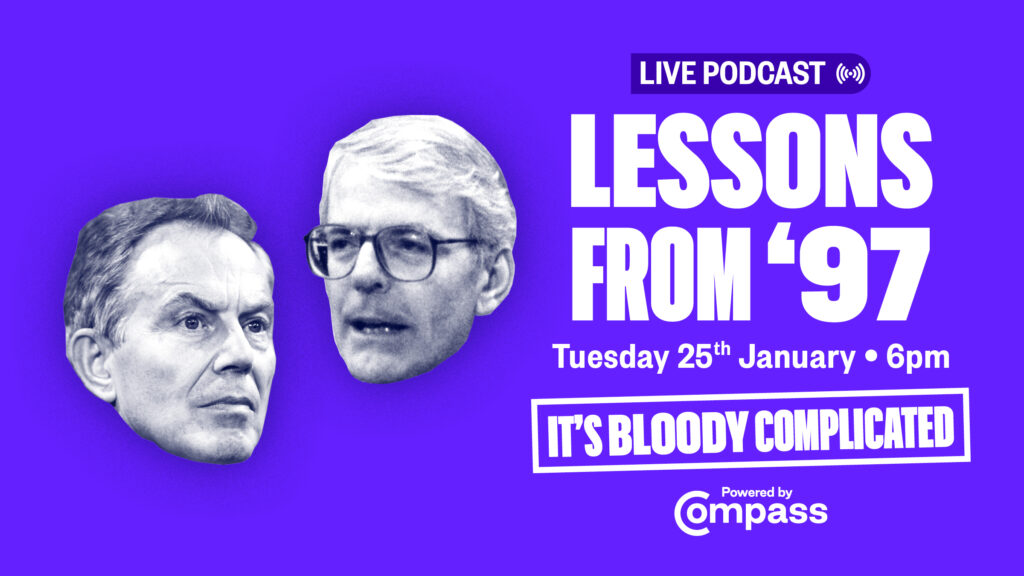 On the next episode of It's Bloody Complicated, Frances Foley and Neal Lawson will be joined by Duncan Brack and Peter Kellner to discuss the lessons of Labour–Liberal Democrat cooperation in the 1997 General Election.
In '97 an informal arrangement between Labour and the Lib Dems helped drive tactical voting – and a landslide election victory for Labour, ending 18 years of Conservative rule.
What are the lessons from 1997 today? What has changed in the intervening years? And after four election defeats in a row, how might progressive parties work better, and smarter, together?
Both Keir Starmer and Ed Davey have hinted that they'd be open to some measure of cooperation. And we've seen some measure of under-the-radar cooperation, through tactical campaigning and voting, lead to thumping recent Lib Dem by-elections wins in Chesham and Amersham and North Shropshire.
Duncan Brack is Editor of the Journal of Liberal History, and was Liberal Democrat Policy Director from 1988–94 and special adviser during the coalition government in 2010–12.
Peter Kellner is a political commentator, election analyst and former President of YouGov
This event is presented in partnership with the Social Liberal Forum.
Join us for the live recording on Tuesday 25th January to put your questions to our guests.
---
If you're a supporter of the Social Liberal Forum, get in touch to join the call.
Compass members can register here for details on how to join the call
If you're not a member of Compass, join today to take part in this and all other bi-monthly members' calls