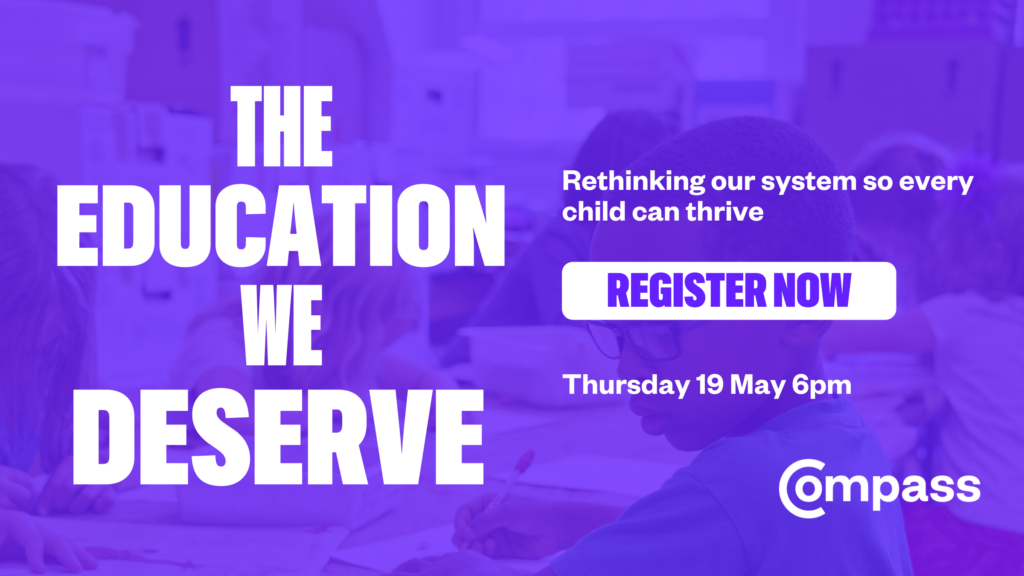 Join Compass on Thursday 19th May for the second of two events examining how to create a genuinely fulfilling education system.
For the last 30 years UK education – particularly in England – has been dominated by neoliberal ideas which marketise schools, commodify students, prioritise testing in the name of accountability and deaden learning. But it doesn't have to be this way.
In all education sectors – early years, primary, secondary and beyond – there are brave individuals, schools and centres doing things differently. Thinkers and campaigners are adding to the noise, coming up with new ideas and demanding change.
Why? Because our current system is simply failing too many kids.
Joining us to discuss are this and much more are four education thinkers and doers:
Peter Moss, Emeritus Professor of Early Childhood Provision at UCL Institute of Education University College London

Christine Merrick, former Ofsted inspector and ex headteacher with nearly fifty years in early years and primary education in the UK and abroad.

Robin Duckett, founder of the Sightlines Initiative for creative practice in UK early education

Madeleine Holt, education campaigner and filmmaker in innovative primary and secondary schools
At the event we we'll explore:
The principles, values and purposes that underpin a renewed education system

UK and international examples of different approaches in action

New thinking that's blossoming both here and abroad

Burgeoning campaigns for change, and how you can get involved
It's time to build a consensus for a deeper, kinder, more creative way of learning.
Register now to join the call.