The long-term trend away from the two-party model has been exacerbated by Brexit. First-past-the-post voting still artificially inflates support for Labour and the Tories, but we clearly live in a multi-party system.
Our new publication, Uncertain Terrain by Ken Spours, unpicks the current political moment. It is the first in a series of irregular Compass publications assessing the fast-changing contours of UK politics.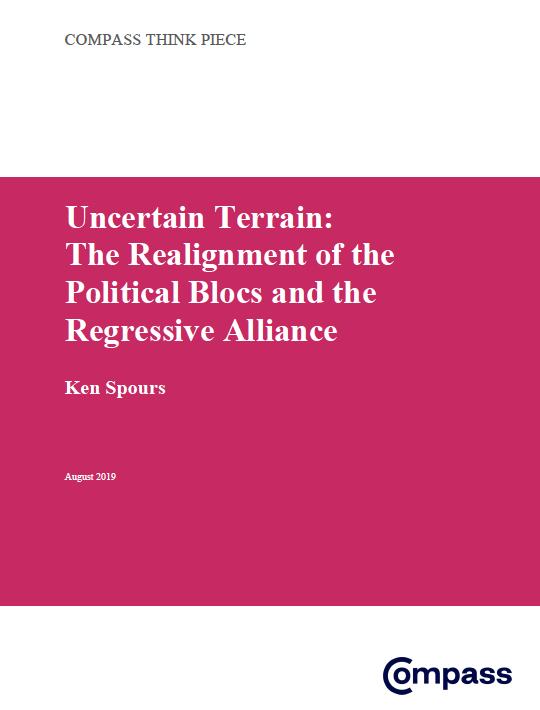 The publication argues that today it makes sense to talk about political blocs: one being a Regressive Bloc mostly made up of the Tories and the Brexit Party, the other an emerging but far from fully-formed Progressive Bloc encompassing much of Labour, the Lib Dems, SNP, Plaid Cymru and the Greens – plus some newer political parties and groups.
Brexit has exploded the old Left/Right-terrain, not least because there are two progressive imperatives.
Many are driven by the first: an urge to stop a No-Deal Brexit and a Johnson majority Government at all costs – even if this leads to a restoration of the old centrist politics that helped get us into this mess.
But there is another progressive imperative: to build the cultural foundations that present a long-term alternative to the causes of Brexit and the challenges of a Regressive Alliance that is shapeshifting into a terrifying mix of ethno-nationalism and economic populism.
This is why we have been arguing that a truly Progressive Alliance is different from a Remain Alliance. The latter is starting to make waves and it looks very well-resourced. It doesn't need spelling out that we share its objective to remove Johnson and to defuse the threat of a No-Deal Brexit – as we believe any progressive would.
But this historic moment calls for fundamental changes in how we decide and do things – and that has to be the focus of Compass. What that means for our approach of a likely election campaign is an ongoing conversation. We want to know what you think – please join the discussion below.
Also, if you want to comment on Uncertain Terrain, or suggest what we should examine in forthcoming Think Pieces in this series on the fast-changing political context, please tell us by commenting below, or by sending us an email.