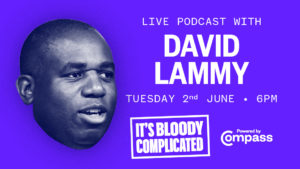 This week we'll be in conversation with Labour MP for Tottenham, shadow frontbencher, author, and activist David Lammy MP.
From Windrush to Grenfell, and beyond, David is a notoriously dedicated and tireless campaigner for social justice. Now, as Shadow Secretary of State for Justice, David is continuing to hold the government to account over the deep inequalities which run right through our society.
David was also one of the 110 MPs and Peers who joined together in April to demand a Recovery Basic Income in response to the Coronavirus crisis.
As if that wasn't enough, he has recently written a brilliant book, Tribes: How Our Need to Belong Can Make or Break the Society. It's a fascinating meditation and call-to-arms, thinking deeply about the benefits and dangers of identity and belonging, and what that means for society.
We're so excited to talk to David about all of this, and so much more.
If you're not already a member of Compass, you can join and register for future calls here: https://action.compassonline.org.uk/podcast
Listen more episodes on the "It's Bloody Complicated" podcast page.