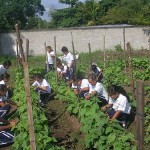 Education is arguably the most important thing a society can provide. It has the potential to transform lives, build communities and support the economy.
And yet our education system is increasingly looking to the past rather than building for the future.
It is becoming more marketised and fragmented; it's increasingly subject to political interference where parents, teachers and local councillors' views are marginalized. 
In recent years the education debate and its policy outcomes in England just haven't been good enough. Despite great progress made in standards and resources the reality is that we are still developing a system that is increasingly fragmented, under-funded, confused and unequal. The prevailing view of education as a private good rather than a civil and human right needs to be challenged. Great work is being done in schools – but this is despite 'the system' not because of it. We really want to change all this.
This is why Compass, the National Union of Teachers (NUT) and many other organisations and individuals are coming together to establish an Inquiry into a New Model of Education. This is a unique project in both substance and style. Starting from a values base of greater equality and democracy it will build a coherent and systematic view of a new model of education. And it will do so in an open, inclusive and modern way.
There are three main parts to the Inquiry are:
The centrepiece of the Inquiry will be the Advisory Council. In short, the Council of around

40

 leading experts

 and interested parties in the education field will meet at three key moments within the Inquiry over its 12 months existence to shape and direct its work. The Advisory Council will be chaired by Dame Jane Roberts – a distinguished thinker and policy practitioner.
Underpinning the Council will be the Education Working Groups which will feed into the Council and the end product. The Convenor responsible for co-ordinating our education thinking and outputs is Prof. Ken Spours and the working groups are loosely divided into:
Learning, curriculum and qualifications for the 21st century
Democratic organization and governance
Co-production and a new professionalism
Well being and values
If you want to join one of the working groups, learn more about the groups or create your own please email Rosie
     3. There will be loads of ways to get involved in the Inquiry including:
Events throughout the year all over the UK
At least one conference dedicated to the new model of education
Each month we will be sending out emails so you know how to get involved in the Inquiry including voting on your favourite policies, commenting on draft documents and getting involved in local inquiries where you are. Sign up for emails by entering your email address on the top right hand side of this page.
Add your contribution to our tumlr on education

here
We are hoping to make this inquiry the biggest and best thing Compass has done- because the project is too big and necessary to fail. We would really appreciate it if you can donate to help us put on a conference, hold local inquiries all over the UK and make this inquiry as big as possible! So please donate here today.