What Next? Progressive Politics in Post-Brexit Britain
A Brighton & Hove Compass Get Together Report. July 2016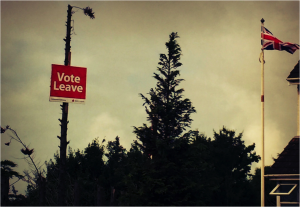 About Brighton & Hove Compass
Compass is the home for everyone who wants to be part of and build a Good Society – working towards a much more equal, democratic and sustainable future.
Compass is founded on the belief that no single issue, organisation or political party can make a Good Society a reality by themselves, so we have to work together to make it happen.
Compass is a place where people come together to create the visions, alliances and actions to be the change we wish to see in the world.
Compass is a member-led movement that has been operating at national level across the UK since 2003. Recently, regional groups have been set up to work towards the Compass aims at a more local level.
The Brighton & Hove group was formally launched in May 2015. Since then we have participated in festivals and held large public meetings and informal Get Togethers. We look to involve a range of speakers from the world of politics, journalism, campaigning and academia, offering national and local perspectives which complement the creativity, experience and expertise our citizens.
Our current work is focused around working with all interested groups, communities, parties and individuals to collaborate on the advancement of local democracy and power sharing through electoral reform, alliance building, increasing access and enabling inclusion.
We believe that Brighton & Hove is a rich environment to advance the cause of progressive politics in collaborative, positive and respectful ways to the benefit of all sections of our amazingly diverse and rewarding city.

Introduction 
It would be safe to assume for a multitude of reasons that most members of B&H Compass voted Remain in the EU Referendum, whilst acknowledging that some progressives held valid reasons for voting Leave.
However, the result and aftermath of the vote is reminiscent of the last General Election where Brighton & Hove voted one way, and most of the country the other, and many of our citizens felt a sense of despair.
Anecdotally, many of us joined Compass after that General Election, as somehow we needed a space where politics and progressive ideas could be discussed in a calm, compassionate non-tribal environment. A space where hope could be reborn.
Whichever way you voted, our country is divided more than ever, with a power vacuum at the top and a maelstrom for the rest of us below. So this space is now needed more than ever.
In Compass we strive for the best of democracy, sustainability and equali