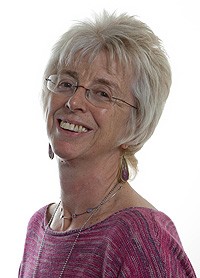 My name is Ruth.  I'll tell my political story with reference to key influences and turning points.  My earliest influence is of course my parents.  They did not have a direct political influence, as my mother was on the left and my father the right although if there was a liberal candidate they both voted liberal in elections.  But they did influence my world view.  My father was a Jewish refugee from Nazi Germany.  He was lucky as he got out early.  Oddly it was only fairly recently that I realised that it was this family history that influenced my strong support for the cause of refugees and asylum-seekers.  My mother was an internationalist – not part of a so-called 'cosmopolitan elite' that some like to sneer at but a  non-university-educated, active Esperantist who believed that languages divide humanity.  I never leaned Esperanto but I did imbibe her internationalist spirit.
Born in Yorkshire, I grew up in Manchester but my parents were persuaded to send me to boarding school on a scholarship.  That made me much more aware of the realities and niceties of social class and of snobbishness.  My first political memory is of the 1964 Election.  My best friend and I were the only Labour supporters in our form.  When it looked like Wilson was going to win with a big majority someone slammed a door in my face with the immortal words 'you want to take our fathers' money away'.  Fortunately, an inspiring history teacher, Adrian Leftwich, (who went on to teach politics at York University and sadly died recently), introduced me to sociology.  And so, to the horror of my headmistress, I decided I wanted to go to Essex University, which was already developing a reputation as a leading centre for sociology.  It also turned out to be one of the main sources of student unrest in May 1968.  I wasn't active in the left at Essex because I found it very unfriendly and off-putting but did get involved in May 68 and subsequently in pushing for student influence in the running of the sociology department.
I was taught by Peter Townsend who was subsequently an important figure in my life in his role as chair of the Child Poverty Action Group.  I was very lucky to get my first real job with CPAG after completing a masters in multi-racial studies and worked there until 1987, the last 8 years as director.  It was through CPAG that I really developed the concern about poverty and inequality that has fuelled my politics ever since. I spent the second half of my working life in higher education and to my amazement have ended up in the Lords as a Labour peer.
Back in the 1970s I was active in the Women's Movement, in particular the Women's Liberation Campaign for Legal and Financial Independence.  One offshoot was the Y B A Wife? Campaign – and largely because of that I chose never to be a wife!  With the demise of that phase of the women's movement, I felt rather rootless politically for many years.  Compass has now provided me with a political home where I feel in tune with both its aims and with how it goes about trying to achieve them.